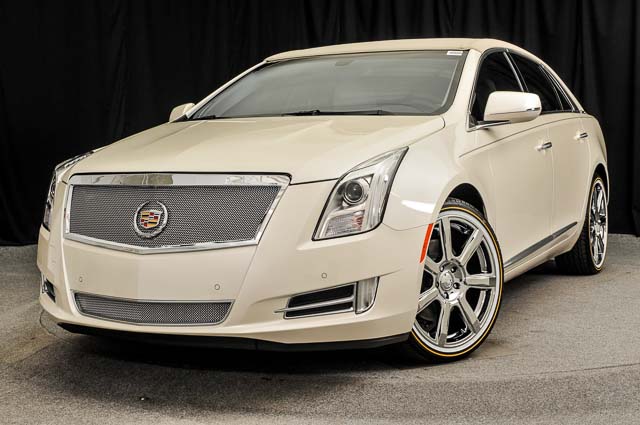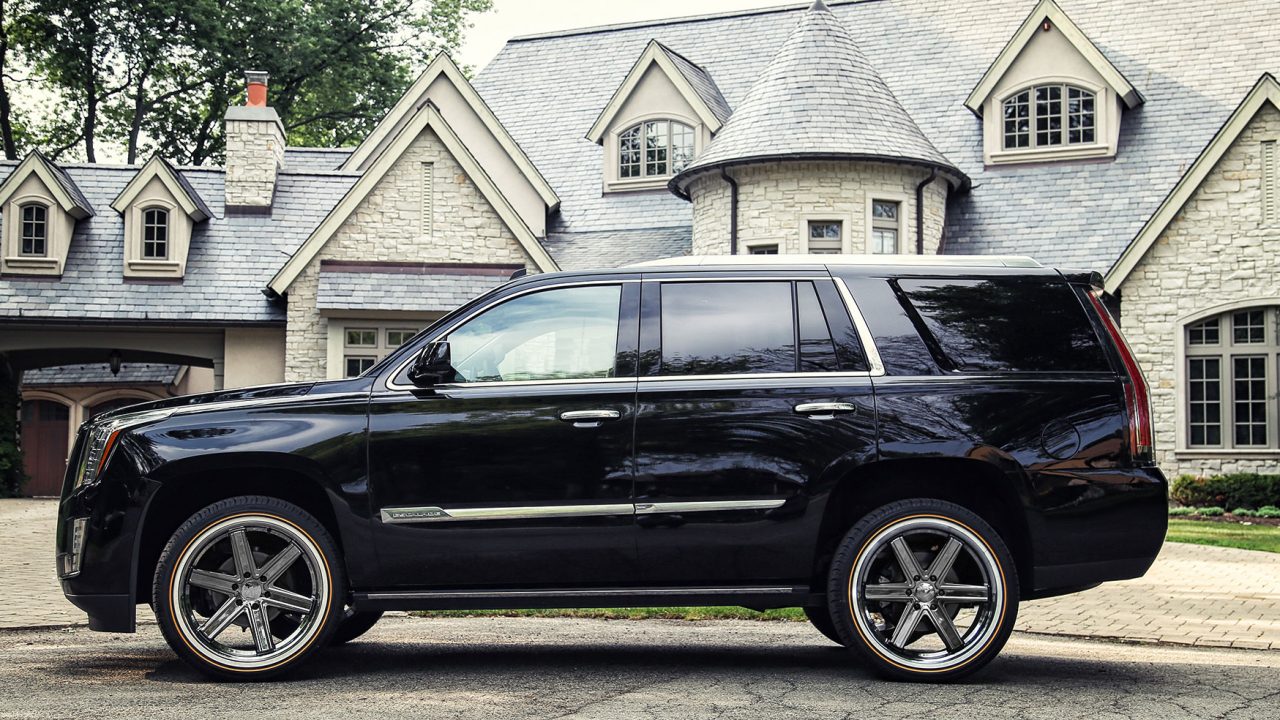 Prestigious tires. Fast & free shipping. Wholesale prices.
Impress your crew and make your vehicle and Cadillac the best it can be with Vogue Tires.
As a leading manufacturer of fine automotive tires for over 100 years, the Vogue Tyre & Rubber Company sets the standard for style, performance, and durability. Vogue's products offer high-quality structure and great looks. Every Vogue tire is constructed with polyester inner sidewall plies for first-rate handling, double steel belts for better safety and resilience, and sturdy nylon overlays to maintain integrity at high speeds. Over the last century, Vogue Tyre products have prevailed as leaders to the world's most demanding drivers.
Vogue Rims and Tires
The Vogue Tyre & Rubber Company has been manufacturing the world's finest tires since 1914. Catering to stars during Hollywood's golden age and surviving the challenges of World War 2 forced the company to develop a breadth of experience and ability that no other tire and wheel producer can match.
But, Vogue tire corporation does more than produce state of the art tires. They also produce the finest rims on the market today. Here at Tire Styles, we have been a proud carrier of Vogue Tyres products for more than 20 years.
The Vogue Tyre & Rubber Company has consistently set new industry standards. Today, they continue to raise the bar in this highly competitive market. Every Vogue tire and wheel is backed up with unbeatable Factory Match Warranties.
Vogue's patented proprietary PVD Eco-Plated Wheels feature an unsurpassed chrome finish that is light, durable, and environmentally sound. Unlike ordinary Chrome plating, Vogue Eco-Plate does not utilize or produce harmful environmental pollutants. Vogue's customized Eco-Plate coating process consumes fewer resources and less raw energy than old-fashioned chrome plating processes do, further reducing the company's environmental impact.
If that's not enough, Vogue Eco-Plate coatings are exceptionally light and reduce wheel weight by 2 to 3 Lbs per wheel compared to other leading rims and wheel. Those with a penchant for speeding through tight corners will notice the difference in performance, and the rest of us will appreciate the marked improvement in fuel efficiency.
All of Vogue Tyre's rims are guaranteed to be:
Specially designed to suit vehicle specs for perfect fitment

Equipped with superior Eco-Plated finishes

All weather capable with enhanced durability Eco-Plated wheels

Backed up by Vogues unbeatable Vehicle Factory Match & Lifetime Warranty
Vogue Wheels for Sale
Known for manufacturing the world's finest tires, and accessories for high-quality vehicles, the Vogue Tyre company also specializes in the design and manufacture of single-piece aluminum alloy wheels that optimize form, function, and reliability.
Chrome PVD Rims
Vogue's popular "chrome" wheels come with a beautiful PVD finish in chrome or light. PVD is a one of a kind, environmentally sound way to deliver the popular chrome finish that drivers adore. But PVD is more than just pretty and ecologically sound. It is also more durable than old-fashioned chrome.
Painted Rims
Vogue Tyre offers a wide range of color and design in bold and subdued styles for your vehicle.
Passenger Vehicle Rims
Whether you're looking for high style, great performance, or both- Vogue's passenger wheels and rims are beautiful, long lasting, and can match any type of car.
Multi-Spoke Rims
A popular and practical wheel design, multi-spoke wheels by Vogue feature a classic parallel bar extending from the hub and continuing to the outer edge without intersection. Vogue's spoked rims are available in numerous styles and spacing types.
Most Vogue wheels and rims are compatible with original equipment, tire pressure gauges, lugs, and wrenches.
The Vogue Tyre company offers competitive factory-match warranties on the finish, composition, and direct fitting.
Vogue Tires
The Vogue Tyre & Rubber Company makes the most popular and functional tires available on the market. Here at Tire Styles, we carry the biggest selection of Vogue tires available. As the leading retailer of Vogue tires and automotive products, you'll always find a wide selection of top-notch Vogue products when you shop with Tire Styles.
Whatever your driving habits, transportation requirements, or vehicle type, the Vogue Tyre brand has got you covered. Vogue tires are exceedingly durable and provide all that the most demanding drivers expect. Whether it's high-speed performance and cornering, top-quality style and versatility- Vogue Tyres cannot be beaten. That's why, here at Tire Styles, we provide the best with one simple strategy- by proudly carrying everything that the industry-leading Vogue Tyre company produces.
Vogue Tires in Stock or Backorder
We carry the full catalog of Vogue Tyre products at unbeatable prices. Check out our stock list for Vogue tires.
• Vogue CBR VII White/Gold Tire: Practical, smooth, and quiet, these tires are long lasting and perfect for the daily commuter.
• Vogue CBR VIII White/Gold Tire: A ideal tire for those who demand performance with cutting-edge style.
• Vogue CBR Wide Trac Touring Tire II White/Gold: For the commuter who wants much more than entry-level styling, the CBR Wide Trac Touring Tire II delivers the performance edge you need to beat the traffic.
• Vogue Classic White Tire: With the classic whitewall that hearkens back to the 1930s, these beautiful Classic Whitewall Tires are inspired by the original whitewall tire.
• Vogue Custom Built Radial CST White/Gold Tire: Vogue developed this premium SUV tire for durability and versatility. It is ideal for SUVs and compact SUV models.
• Vogue Custom Built SUV White/Gold Tire: Ideal for the SUV commuter who is looking for added safety, a smooth ride and capability- the Custom Built SUV White/Gold Tire from Vogue provides all of the above for a quiet ride and long life.
• Vogue Signature V Black Tires: Simple, stylish, and sleek, Vogue's Signature V Black Tire is a no-nonsense tire that provides a quiet and comfortable ride, long-term durability, and high performance. This is the one tire for drivers who want to have it all.
• Vogue Signature V SCT Tires: For practical drivers who appreciate the finer things in life, the Vogue Tyre company created the Signature V SCT Tire. This durable, high-performance tire will run well in all types of weather, all year long. It is well suited for light trucks, SUVs, and SUV crossover vehicles.
For everything Vogue, by the finest manufacturer of tires, rims, wheels, and related products- visit Tire Styles- the leader in all things Vogue!
Get exclusive deals and offers.
Sign up for our newsletter to stay up to date with the latest discounts.
Set your car apart from the ordinary.
With great tires and low prices, let's bring your vehicle to the next level.